Since I was a child, it's been a fantasy of mine to experience WWF live at the world's most famous arena. On Thursday, this fantasy became real. While there were plenty of great moments, it was Rey Mysterio and Andrade who stole the show with an excellent match and an ending that nobody expected. Here are the highlights of the show in pictures and words.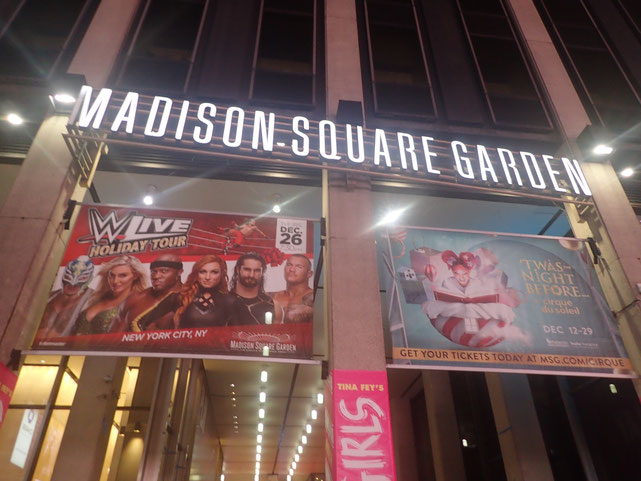 The opening match was a triple threat tag team match between the Bullet Club, the Viking Raiders and the Street Profits, the latter which in a certain way appear to me as a reincarnation of former tag team gimmicks (Men on a Mission, Cryme Tyme and some others). A decent opener, in which the Viking Raiders certainly stood out, especially Ivar and his impressive agility despite his physique.
Coming to the ring next was No Way José, another gimmick reminding me of the more cartoonish era of wrestling in the late eighties and early nineties. This recycled and modified version of Koko B. Ware didn't dance for too long. Things got more serious as Drew McIntyre made his epic entrance and defeated José within a short amount of time time. The match was  designed to put McIntyre over as a badass.
No one saw this coming: Legend Rey Mysterio lost his United States Championship against Andrade in what turned out to be the best match of the night. Except for the 24/7 championship, titles usually change hands in regular TV shows or PPVs when millions of people are watching, so Mysterio's loss came as a big surprise. Him and Andrade had a great chemisty. One great spot followed the next, prompting the fans to chant "this is awesome". The Mexican legend did a great job putting the newcomer over.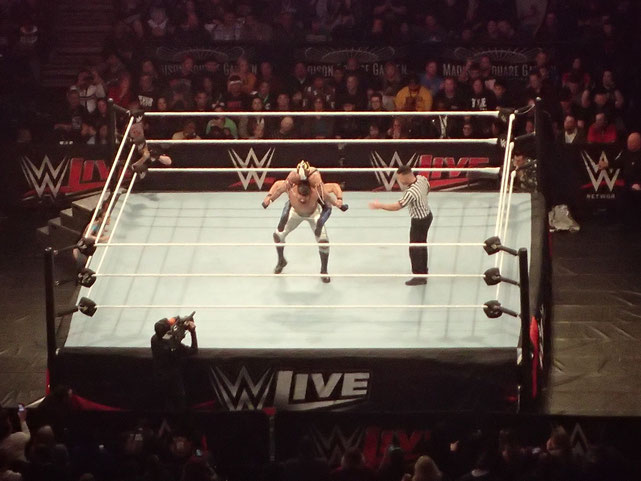 As much as I like AJ Styles, his match against Randy Orton was more of a filler. Something was just missing. Maybe the match just appeared as too slow after the previous, fast-paced match. Moreover, the story that was told does not seem credible to me, because we are made believe that Styles is the heel (bad guy) and Orton the face (good guy), when the phenomenal one is so easily likeable and Orton so easy to hate.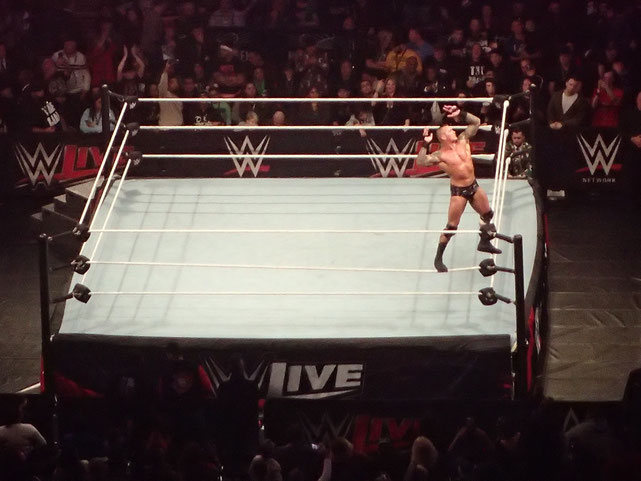 Female wrestling has improved a lot in recent much, and the WWE now has more talented females wreslters than ever before. There is so much confidence in the female athletes that the WWE started to book various gimmick matches including women. Since two years, they even have their Royal Rumble match. And tonight, for the first ever, we get to see a women's steel cage triple threat match that apart from the popular Becky Lynch featured two of my personal favourite female wrestlers: Charlotte and Asuka. There were some really nice spots in the match and a funny moment when Lynch slapped the referee because she was frustrated with his too accurate officiating.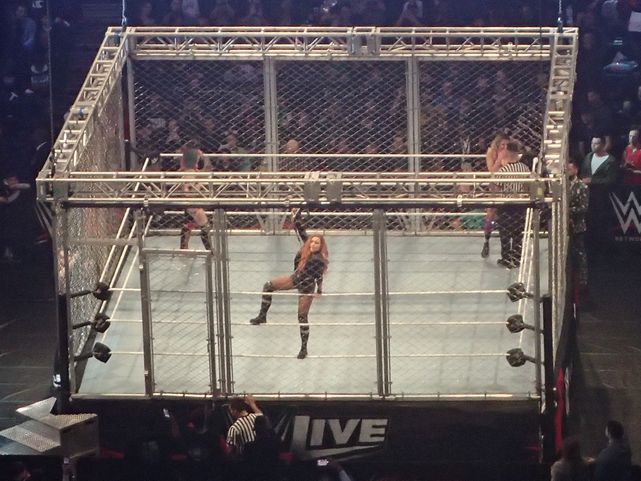 I Always enjoyed the 24/7 concept of the hardcore title in the late nineties. In the handicap match between the always entertaining R-Truth and the Singh Brothers (what a silly gimmick), the new 24/7 Title changed hands 3 times. Truth regained his belt in the end. A short match designed to amuse us with some silliness. 
While nobody can deny Buddy Murphy's athletic ability, I personally have been especially looking forward to finally see his opponent live, a newcomer that impressed me a lot when I first saw him in action in last year's 30 Men Royal Rumble, where he stood out with his great entrance, great charisma, great moves and great style. He is Aleister Black, a dark character with a bright future. And I predict that sooner or later he will be the Universal Champion and/or WWE Champion.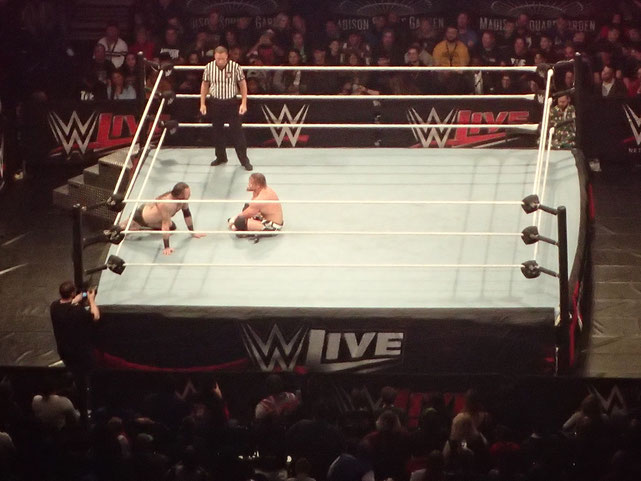 So far I have not seen one bad match of Ricochet, who along with Aleister Black is my favourite among the newer additions of the WWE Main roster. When Ricochet is in the house, spectacular moves are always guaranteed. Not only is Ricochet taking the highfly-style to a whole new level, but at the same time he is great at selling the moves of his opponent. It was a daring experiment to turn his opponent Lashley a heel, which works way better adding Lana to the mix, who keeps annoying the crowd with her repetitive expression of love for Lashley and her several interferences in the match. This Monday on Raw she will get married with Lashley after leaving her previous husband Rusev (a storyline, in reality they are still married)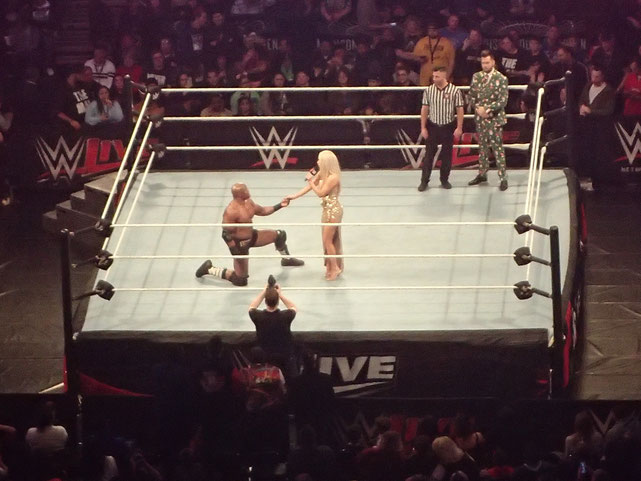 Even a regular match between Kevin Owens and Seth Rollins promised to be fun. When it was announced that the main event is going to be a no holds barred match, it was clear that sooner or later a table would break and a variety of foreign objects would be used. We would not be disappointed. Before the match started, Rollins cut a heelish promo, which fits him better than his role as a face, and complained about why people boo him. After Kevin Owens made his entrance, he took the opportunity to explain to his opponent that people boo him simply because he is a jackass, subsequently animating the crowd to start with jackass chants. The match itself was as expected really good and had many fun moments, be it Owens and Rollins brawling in the crowd, creatively using foreign objects such as chairs and ring steps or the moment, when Owens grabbed the microphone in the middle of the match only to once again remind Rollins that he is a jackass. The tip of the ice cake was followed after Rollins' unfairly beat Owens and continued attacking him with his thugs, when Samoa Joe appeared to make the safe.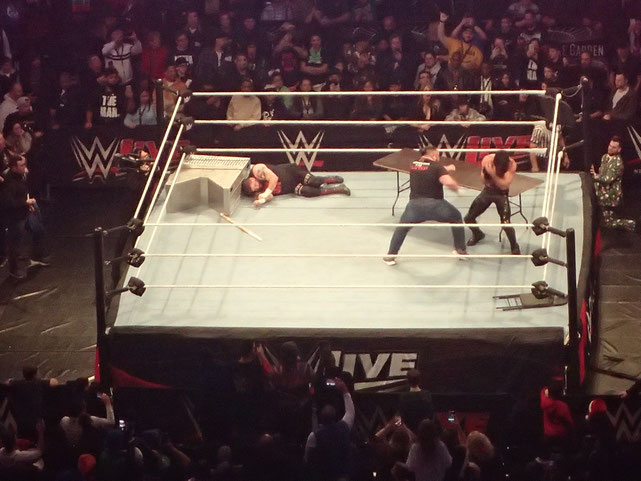 The show ended with Joe and Owens celebrating together. So, this was it, my WWE experience in the world's most famous arena, the same venue where Joe Frazier and Muhammad Ali had their classic fight. This was, however, only a warm-up show for me, as I expect to experience WWE live again pretty soon in a much bigger event. Until then I hope to share more pictures and a lot of video footage from the event at MSG with you. Stay tuned!