April, 2010 - A new day begins. Finally I have had some sleep. It was a long journey to Hollywood. For a moment I recall how last night I accidentally ended up in Compton before finding my way to a Motel in Hollywood Vine. As I check what time it is, I realize that I need to hurry up, because my friend Daniel, whom I haven't met for years, is about to arrive. As I change my clothes, something falls out of my pocket. It is a black guitar pick with a scorpio sign. My fellow guitar player Sebastian gave it to me the last time when we met in Germany. The pick reminds me of what a special day today is. While I am looking forward to have a great time here in Hollywood with my old friend, my thoughts are particularly with my band mates, who will play in the Batschkapp tonight, one of the most famous concert halls of Germany's Rhein-Main region. It was in the Batschkapp, where we used to witness several of our favourite bands performing live, when we were younger and didn't even know how to compose songs or how to play any instrument.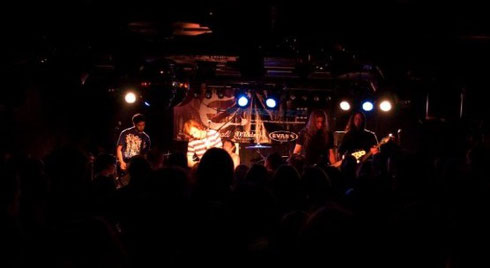 'Love Turns Hate'
It all started in 2002 during a class trip in Italy, when I tried to write a song with the title "Love Turns Hate". A year and about 20 written songs later some friends suggested to name the band that we sought to create after the first song that I wrote. Although none of us could actually play anything, a few friends of mine and I began to acquire some skills and over the years we steadily continued developing those skills. Our band appeared under different constellations, until in 2008 we developed a more melodic style under a new formation. We had quite some memorable gigs ever since, but none of them was as important as the one that will take place tonight in Frankfurt's Batschkapp. The weird thing for me is that I am not able to be there.
Earlier this year, our vocalist Dan - not to be confused with Daniel, whom I would meet in Hollywood very soon - informed me that we somehow ended up in the qualification round of Emergenza, the world's largest festival for unsigned bands. The winner of this contest will have the opportunity to produce a record, tour with established and well-known bands and get national recognition by presenting their music to much larger audiences all over Germany. In our region, ten bands had the chance to play, but only four of them would make it to the semi finals. 'Love Turns Hate' was among the ten candidates. "I don't know if we can make it, and even if we do, the next round would take place when I will be doing the Around-the-World Trip.", I told Dan after he gave me the good news. "We will find a way. Let's just do it , have some fun and see what happens", Dan replied. He was of course right. We should seize this opportunity and I was curious to find out, if we have what it takes to compete with the best unsigned bands in our region.
So we prepared for this big opportunity, mobilized all our supporters and put all our heart and soul in this performance. It turned out that not only would we head to the semi finals, but an overwhelming majority of the visitors, most notably all our friends, whose strong and vocal support was apparently quite contagious, made us become the number one band of all ten bands. After qualifying for the semi final round of the band contest, the question was what we would do about the problem of me being abroad on the day on which we are supposed to play in the Batschkapp? Who could serve as a substitute? We had less than three weeks left. Who could learn our songs within such a short amount of time? We decided for our bass player Paco to play my guitar parts, because he knows many of those parts already and as a skilled guitar player he can learn the other parts fast, whereas Damian, a long time friend of the band and an experienced bass player, would take over Paco's role. Despite the lack of time that Damian had to learn all the songs, I was confident that nobody we know could pull this off but him.
Meeting Daniel Mentz in Hollywood
As the thought bubble bursts, I put the pick back in my pocket and highly anticipate the outcome of tonight's show in Frankfurt. Since we have a different time zone here in Los Angeles, my friends in Germany are probably getting ready now to enter the stage. Ironically, the old friend that I am about to meet here in Hollywood is none other than the former drummer of 'Love Turns Hate'. Once Daniel arrives, we get into his car and he shows me some of the most famous spots in and around LA, such as the downtown district, Runyon Canyon, Venice Beach and Santa Monica.
We have a stop at a Mexican restaurant and eat some Burritos, before Daniel decides to take me to a bar. Inside that bar we begin to elaborate on what we have been doing lately. While songs of some of our favourite bands are playing through the loudspeakers and scarcely dressed women with silicon breasts receive our order, Daniel and I discuss the paths that both of us have chosen, my ambitions to discover the world, and Daniel's 
decision to pursue an acting career. We then reminisce about the good old times, when we used to play in a band together, the same band that by now must have finished performing the most important gig in our band history. Sure, it is not the Woodstock Festival. Sure, 'Love Turns Hate' is not playing at the Staples Center. But I remember how seven years ago, when the band was created, none of us even knew how to play any instrument and we could have never imagined that our band would one day stand on the same stage where those legends used to perform their songs, who inspired us to make music in the first place.
Daniel and I recall more of those funny and amazing moments we had playing together back then, until it is time to bid farewell. Little did we know that we would see us again much sooner than expected.
On my way back to the Motel I once again check my mobile phone. I have finally received a message from Dan, the singer of 'Love Turns Hate'. With a strong expression of disappointment he informs me that only a few votes were missing for 'Love Turns Hate' to make it to the final round of the Emergenza Band Contest. For a moment I feel huge frustration, convinced that the outcome could have been different, that we would have won over those few votes, had I been on stage with my band mates. The next moment I feel like I let my friends down, although I know that I was not able to just cancel an Around-the-World trip. As I walk along the Sunset Boulevard, the so called 'Boulevard of Broken Dreams', my thoughts are pending between the dreams that have just shattered in Frankfurt and the dream of traveling around the world, which I am living right now. It's a weird mix of feelings, somewhere between melancholy and euphoria. It feels like a big era in my life is ending, while a new era is ahead of me. But before thinking about a new era, I should first make sure not to miss the ten flights that I still need to catch in the next weeks. Tonight, however, I decide to indulge in melancholy and think about all the great moments that I had playing with my band mates. It's time to get wasted. And what better way in this situation to get wasted than in the world famous rock club 'Whisky a Go Go'?
I thought that it could be a depressing feeling to watch the video of the concert in the Batschkapp. It was the first and only time that I saw  'Love Turns Hate' without myself actually being on stage, the first time that I heard the many songs that I wrote years ago without me actually playing it. But once I was watching the videos, I had a big smile on my face and felt nothing but pride, because my friends really pulled of a good show when they were in the tough spot of having to rehearse all the songs with my substitute in a short period of time. Only later I would learn that 'Love Turns Hate' was supposed to play as the first band, but in the last moment it was decided that our band would play in the end, when a significant number of visitors, whose votes could have made the difference, had already left.
Two months after this fateful night, when I returned from the Around-the-World trip, we were ready to play our final gig, an acoustic concert at the river side of our hometown Offenbach. There was just one problem. This time our drummer Felix, who worked as a cook, would not get any days off. And this time we couldn't think of any substitute. This time there was even less time left for a replacement to learn the songs than it was the case for the semi final round in Batschkapp. There was no chance that any drummer we knew could learn all our songs that fast. And then I received a message from Daniel Mentz. He told me that he will return to Germany for a short while, and he would arrive just shortly before our concert started. Since he is the ex-drummer of our band, he knew most of our songs. So the irony was perfect, as 'Love turns Hate' played their last concert with Daniel Mentz, our ex-drummer whom I met in Hollywood on the day when 'Love Turns Hate' was playing in the semi finals of the Emergenza Band Contest in the Batschkapp arena in Frankfurt.
In the following years, Daniel would establish himself as an actor and screen writer. His most famous works to date are arguably the short movies 'Exit' and 'Slipaway', both of which premiered at the Cannes Film Festival. Below you can watch 'Scorpion', another short film starring Daniel Mentz. For more information on his acting and screen writing career, check out his website.