Who has not had the wish to travel through time, to see what the future is like, to change certain moments of the past or just to relive the most beautiful moments of the past? We may not be able to travel through time like in the movies, but today an increasing number of people has the privilege to travel extensively in a way that makes us feel like we have left the present. And although we cannot manipulate the past and we cannot travel to the future,  even listening to songs, watching movies or looking at pictures can feel like travelling through time, a way to relive the 'good old days', with which we associate the respective objects that feed our nostalgia, or a way to remember what constituted the 'good' in those days. For a moment we go back to the past, we can just enjoy it, or even learn from it.
How time flies! But admittedly, the reason why I speak about time, why I speak about travelling, and why I speak about time travelling, has not too much to do with starting a big philophical or scientific debate, but with what's trending on social media these days and how it reminds me of one specific moment that lies five years back, when I visited the Universal Studios in Hollywood and saw this vehicle that has become famous for being depicted as a time machine in what has become one of the greatest trilogies in film history. The original DeLorean that was used in Steven Spielberg's "Back to the Future" was one of the biggest highlights of the Studio Tour in Hollywood. As the online magazine Slash Gear reported, this model was used most of the times and in all three parts. After years of restoration, the DeLorean has been relocated to the Universal Experience museum.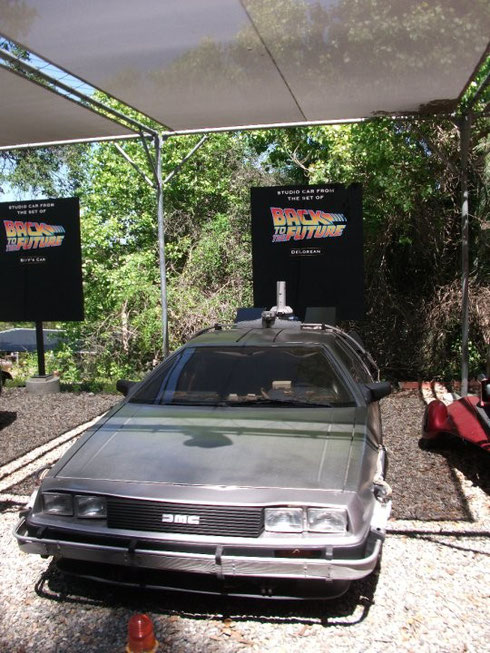 It's been 30 years, ever since 'Back to the future' was released, fascinating viewers all over the world. It's impact on popular culture was so huge that today - the date that the protagonist chose as his time travel destination in the movie - is being celebrated by many people as the "Back to the future day". Although so many years have passed, only a few trilogies can be compared with Spielberg's masterpiece in terms of quality. Because it does not matter if you live in the past, in the present or in the future, 'Back to the future' remains timeless, and if you haven't watched it, well, that's the great thing about movies: You do not need a time machine for doing so.
---
---
Lade Twitter-Nachrichten...
---
---