July, 2011 - From the railway station in Frankfurt am Main I take the first bus. The longest roadtrip of my life has officially begun, with the final destination being my country of origin, the Islamic Republic of Pakistan. After passing German cities such as Mannheim and Karlsruhe, we take a short break in Austria. Actually a shame that I only have some very vague memories of Austria as a child. I should consider to explore some parts of Austria in the future. Next, we reach the region where I spent the final days of last year's travel project, the region formerly known as Yugoslavia. On the way to my first destination of this year's trip I also get to enjoy the landscapes of Slovenia, the first entity of ex-Yugoslavia that had seceded before the war broke out. We take another break in Croatia, which became independent from Yugoslavia shortly after Slovenia's secession, too. Since Croatia was the final destination out of ten countries in the challenging Around the World trip last spring, the short stay in its capital felt kind of incomplete. Maybe there will be the opportunity to visit Croatia again one day. 
The last break that we take is in a city that is scheduled to be the second destination of this year's journey. A small taste of Visoko. From its railway station you can already see one of the hills that is shaped like a pyramid. According to some archaeologists and international volunteers who have been doing excavations in Visoko, their discovery of a tunnel complex, as well as what they believe are man-made archaeological objects in and around those pyramid-shaped hills, cannot be a coincidence. For a number of reasons they are convinced that these hills are real pyramids indeed. Most archaeologists reject the theory of the 'Bosnian pyramids', inter alia arguing that all or most of the discoveries are not man-made. A local points at the hill and lets me know that this is the "Sunca Pyramida" (Pyramid of the Sun). "Da, znam, citao u internetu", "Yes, I know, I read it on the internet", I reply, looking at the hill one more time, before we get in the bus again. Soon I would return to learn more about it.
We have left more than 1000 kilometres behind us. Last year I drank from the fountain of Sebilj, symbolically signalizing a potential return to Sarajevo. Now only 27 kilometres separate me from the "first stair", the kick-off of this project called "Operation Stairway to Heaven". And then we get caught in a massive traffic jam like it was rush hour in New York City. That's not really what I was expecting on my way to Sarajevo. One hour later we arrive at the railway station of Bosnia's capital, close to the famous yellow Holiday Inn Hotel and the Avaz Twist Tower, one of the tallest buildings in Southeast Europe. This year, I would not hike up the hills for hours, but enjoy the view from the modern tower instead. But after a 26 hours trip, it is maybe a good idea to check into the hostel first. Two Bosnian youngsters convince me to share a taxi with them to save money. Not much later we arrive in Bascarsija, or Carsija, as the locals like to call it. The nearby national library Vijecnica is still 'recovering' from the damage that was done during the Siege of Sarajevo.
As usual, there is not one single hostel room that I booked in advance (I was never fan of credit cards, which you usually need for doing so). To be on the safe side, I noted down the adresses of two alternative hostels instead. The first choice is the hostel, in which I stayed the previous year. Arijan receives me with a warm welcome. However, I also receive a surprising information. There is no bed available tonight. Wow, this hostel has become that successful within one year? Im happy for the family. The owners of the hostel try to find a nearby hostel for me, but all of them are fully booked as well. Now that is weird. Sarajevo is not really known as a very touristy city. It seems likely that even my alternative options have no free beds left. Why are there so many tourists in Sarajevo all of a sudden? As if this is not inconvenient enough, the heavy rain that has been haunting me since Germany, just won't stop, even though it's the end of July. Luckily, the owners find an 'emergency room' for me. But despite the long trip, I am too energetic to take a rest now, especially because I know that my schedule in Bosnia is tight.
During last year's stay in Sarajevo I learnt more about the Siege of Sarajevo and some of Sarajevo's most famous sights and monuments, especially with the help of Indira, who will most likely not be available during my short stay. This time, I much rather observe and focus on the multicultural and multiconfessional peculiarities of the Bosnian people. In Bosnia, Muslims constitute the largest confessional group, whereas a slight majority is Non-Muslim. To Eastern and Western travellers alike, Sarajevo will likely appear to be exotic enough while at the same time being familiar enough:  While you continuously perceive the sound of the Bosnian language with all its Slavic characteristics, through the loudspeakers you concomitantly hear the Arabic Azhan calls of the Muezzin all over Sarajevo during Muslim prayer times. Ottoman architecture is to be found in all parts of the city. At the same time you are surrounded by this occidental landscape and witness the ubiquity of modern Western fashion and a secular lifestyle. Not much less perceivable are all the locals who by their appearance alone express their traditional values and piety. Some tourists look like their whole world view is changing within seconds, as they look in disbelief at the predominantly Caucasian Muslims who enter the mosques, because usually many Western people associate Arab or dark skinned people as Muslims. The interwoven diversity perfectly serves as a cultural bridge between Eastern and Western culture, making Bosnia an ideal place to not only learn more about the other side, but also from the other side. It is also a good place to get wasted, I soon realize.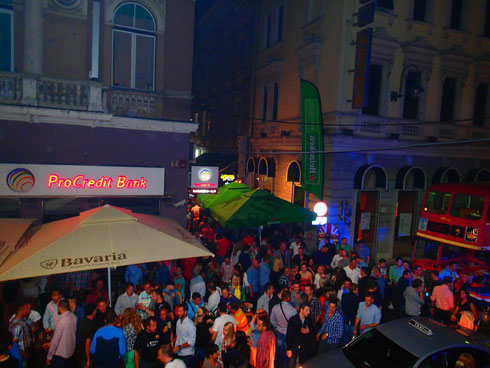 Compared to the previous year, there seems to be a different atmosphere this time. It feels more lively,

and more than that. While last year I was shown the 'Scars of Sarajevo', today it feels like Sarajevo has put make-up on its face and is getting dressed-up for the guests that are being awaited. There is excitement in the air. The sun goes down, and I slowly begin to understand why everything feels so different to me, as  the streets in and around the city center are getting more and more crowded. The Siege of Sarajevo was full of tragedies, but if there was anything about the times of war, with which many people in Sarajevo can associate joy, it is a special annual event that was founded back then.
My second trip to Sarajevo coincides with this event that is known as the Sarajevo Film Festival, where many famous celebrities such as Angelina Jolie, Gerard Depardieu and Michael Moore have made appearances. Finally, the traffic jam and the fully booked hostels make sense. Maybe I should have payed more attention to the respective advertisements that are to be found all over Sarajevo these days, promoting what is the largest Film Festival in Southeast Europe.
As expected, it is very easy to socialize with the people here tonight. Among others, a group of tipsy locals join me and joyfully sing local songs, enjoying the festivities, and welcoming me and other foreigners with open arms. Though I have slightly enhanced my vocabulary since last year, I of course still do not understand everything, and sometimes unexpected misunderstandings can occur. For a moment I remember how I once asked a Serbian woman, who had a depressed look on her face, why she was so sad. Unfortunately, I confused the Serbian (and Bosnian) word "tužan" with "ružan", accidentally asking her, why she is so ugly. But tonight there is hardly any failure of communication, since many locals here speak English or German.
Numerous people sit or lay down in the parks along the Tito Street, some of whom commit the typical 'secular sins'. This is probably not what Alija Izetbegovic had envisioned, when years before becoming the first president of Bosnia and Herzegovina, he wrote the Islamic declaration, calling for a return of the largely secularized Bosnian Muslims to traditional Islamic values, which his opponents regarded as an affront against Yugoslavia's principle of "Brotherhood and Unity", a slogan that was coined by the first President of Yugoslavia Josip Tito. But after an agonizing and brutal war that shattered this "Brotherhood and Unity" once and for all, nostalgic thoughts have intensified and especially tonight a past unity is being relived by a young crowd of Bosniaks, Serbs and Croats, many of whom efficiently serve as 'cultural construction workers', opposing the destructive forces of radicalism and ethnic or religious hatred that have of course not completely vanished within such a short time period. "He is Bosnian, I am Serb, we are best friends", one local tells me as he introduces me to his buddy.

Physical bridges can be destroyed easily and fast, even after having existed for hundreds of years, as the Bosnians painfully learnt during the bombardment of the Stari Most in Mostar. But the cultural bridge that the Bosnian people have built over an even longer period of time, only suffered a crack. And as the locals celebrate the Sarajevo Film Festival tonight, the efforts of fixing this crack continue, with a diverse crowd that apart from having just fun has found a common ground to cohesivel